I must admit, I've been avoiding this topic for a while, though I see it crop up constantly. Many self-published authors are told to start blogging to build a fan base, which sounds simple enough. Doesn't everybody offer free blogs these days? Isn't design easy thanks to built-in templates? So you create your blog and pick a pretty design...and then horror strikes. What the heck are you supposed to blog about?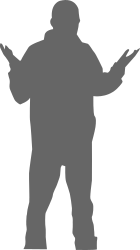 Blogs, Books and Writing...Oh, My
It seems like there ought to be a simple solution, right? After all, you're a writer...shouldn't blogging be a breeze? In truth, maintaining a blog can be pretty hard work, especially when you'd rather be hard at work on your next book. It's especially hard if you aren't committed to your topic. So...what's your topic?
In the world of self-published author blogs, there are a few different types of blogs you'll see a lot.
If you don't want to blog about your own writing, blog about other people's. Or maybe blog about writing in general, books you love. Whatever you choose, blog about something that you are interested in and something you can write about with some degree of knowledge or skill. Make sure the information you blog is correct, or you will lose credibility with readers. And stick with it. Many self-published authors are discouraged by very slow progress, but if you continue to blog and strike up professional relationships with other bloggers you will slowly build up a base of readers.